The Lloydminster RCMP the Lloyd Co-op and the Lloydminster Fire Department managed to stuff their newest cruiser 5 times at the fifth annual Stuff the Cruiser. The food drive at the Lloydminster Co-op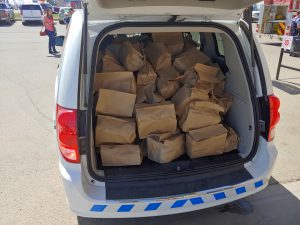 Marketplace managed to stuff more than 230 pre-packaged food bags for the Salvation Army Food Bank.
Previously, the event featured an RCMP Crown Victoria police cruiser which would be stuffed with food and delivered to the Salvation Army. This year the RCMP brought out their fully-loaded community policing van. According to the RCMP, the 5 stuffed van loads equals about 10 stuffed police cruisers. Over the past four years, about fifty cruisers have been stuffed with food. The Lloydminster RCMP thank members of the community for their support.