For five years and more than 100 projects, Co-op Community Spaces is continuing to invest in community projects across Western Canada. The latest investment includes new funding for recreational space in Lloydminster ahead of the 2020 Saskatchewan Summer Games. This year, Co-op is providing $140K to resurface the community track at Lloydminster Comprehensive High School.
The facility will be used for the 2020 Saskatchewan Summer Games but will also be able to host future competitions and be used by the community for walking and training. The project is part of greater work being done on local facilities and surfaces in advance of the Saskatchewan Summer Games, hosted by the Border City from July 26 to August 1, 2020. Cindy Rekimowich, vice-chair of the 2020 Saskatchewan Summer Games Host Society, is excited and thankful for the investment from Co-op Community Spaces.
"It's really exciting. Co-op is definitely a contributor to our community," said Rekimowich. "They've come up with a lot of dollars to support this huge project, and our community track is well used by the schools. Community members use it. It is great news."
The project will lift up the existing surface of the track and fix any structural damage found. It will also resurface the track and any long jump pads. It's aiming to be one of the main legacy projects left behind by the games. Rekimowich is excited the generosity and support the Co-op Community Spaces has given, and looks forward to working with them.
"Co-op is very generous and they've been very supportive of a lot of community initiatives. We're very grateful and we're glad we have them on our team. They're going to be one of the leaders in coming up with funding support for the event. There will be others that will follow, and we appreciate them stepping up."
Co-op Community Spaces has been developed to help protect, beautify, and improve spaces across Western Canada. This year the program is providing $2 million to 26 community projects from Vancouver Island to Manitoba. Since 2015, Co-op has donated $8.5 million to 114 projects. The Saskatchewan Summer Games Host Society received funding after completing an independent application process. They were chosen to receive funding out of more than 800 applicants this year. Leanne Hawes, CEO of Lloydminster and District Co-op, is looking forward to the work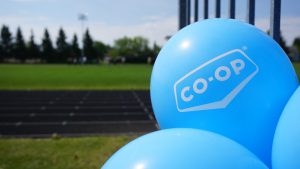 "The Co-op Community Spaces really is about creating spaces in the community for everyone to share," said Hawes. "To take on a project like resurfacing the track around Armstrong Field is excellent because it speaks to what the program is about in terms of creating a space that everyone can enjoy. Not just for the Summer Games, but for our community today and beyond. We're really excited about that."
The project is slated to begin in July and finish by early August.