Chants of "Black Lives Matter," "Indigenous Lives Matter" and "Pride Lives Matter" filled the air at Lloydminster City Hall Saturday, as protesters raised awareness of discrimination, both in the community and worldwide.
Vermilion Unites for Equality, a group that formed during Black Lives Matter protests in June, held a rally September 26th. The organization hoped to use the event to foster the discussion around racism, sexism, homophobia and transphobia.
Speakers included Black and Indigenous Alliance Alberta founders Kisha and Callum Daniels, local No Justice No Peace founder Ashleigh Cardinal,  Pakistan Canada Association of Edmonton Hospitality Director Sajida Asghar and Red Deer Against Racism founder Cheryl Jamie.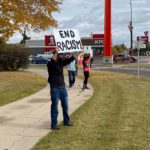 The speakers shared their experiences with racism. They also showcased statistics on how racism impacts marginalized groups on several levels, and stood in solidarity with victims of racism, police brutality and missing or murdered people of colour.
Tigra-Lee Campbell, one of the co-creators of VUFE, says she has experienced racism first hand, and she would like to see several changes to build a more positive society for BIPOC people.
"Support the social systems, whether that be education, healthcare and addictions and mental health services. We feel like if these services are really brought up in the social level, we won't be seeing the problems that we have today."
While there was some concern from organizers and attendees of backlash, especially after anti-racism protests in Red Deer were violently challenged by counter-protesters, the day largely saw people honking their horns in solidarity as they drove by. There was also a heckler who showed up, but the situation was quickly diffused peacefully.
Campbell explains that she hopes people came away from the peaceful protest with an understanding of how racism exists in their own lives, and what they can do it fight it.
"Call it out where you see it, whether that's at the table, or in the workplace. There's tons of resources out there that you can read or listen to, that can help you understand more about what racism is, and how it really is [impactful] in Canada, and to learn our history and where we've come from."
VUFE has turned their weekly discussions into Zoom meetings, and plan to hold several events on diversity and inclusion in the future. They will announce details on their social media.