The smiles, the joy, sunshine and wind. A Sunday afternoon as the community came together in support of Pride Walk 2022 along Highway 17 in the Border City.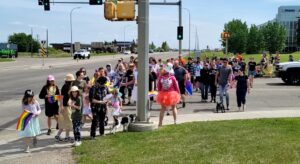 Over 60 participants walked from the Cenovus Energy building to the Synergy Credit Union offices for refreshments, then back east along Highway 17 to the Cenovus car-park where they gathered for the first Pride in the Park in over two years.
The kickoff to Pride Week in Lloydminster was a time to visit with good friends that had not met in some time and make new friendships as the local LGBTQ2S+ community celebrated their achievements since the first activities were held back in 2017.
Jenson Brown, chair of the LGBTQ+ Society of Lloydminster described the atmosphere as phenomenal.
"Right now I'm looking out and I'm seeing a drag-queen reading to a whole group of kids. Vendors selling their stuff; really being able to support themselves. The barbecue has been a constant stream of people. The burgers are absolutely delicious. It is absolutely great to look around and see so many people; just all people, just comfortable and safe and having a good time."
As MyLloydminsterNow has previously reported, several activities are planned this week including a family movie night at Grace United Church on Tuesday and culminating with two Slay the Night Pride Shows on Saturday at the Gold Horse Casino.
Brown says they are already looking at ideas for next year even as the group rolls out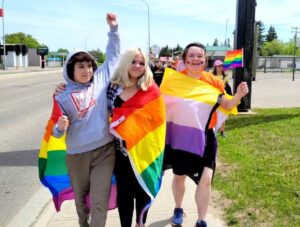 activities across this week and Saturday night.
"The seven o'clock is a 16-plus show and then the 9:30 p.m. show is a 19-plus at the casino and we are really excited for that. And all ticket proceeds go to the LGBTQ+ Society of Lloydminster."
More details can be found on their social media.