With wildfires raging in La Loche, Saskatchewan some 3-400 people who have been displaced could be in Lloydminster by the end of the weekend.
Andrew DeGruchy, head of emergency management with the City of Lloydminster says they were notified on May 3 that there was an evacuation order for Clearwater River Dene Nation. Evacuees started coming to Lloydminster on Thursday May 4 and DeGruchy says there are some 200 residents staying at various local hotels with another 50 expected later Friday. Degruchy says they expect the number to increase to just over 400 people by the end of this weekend.
Meadow Lake Tribal Council is leading the emergency management and DeGruchy says they have set up a command station in the boardroom at one of the hotels. The city is going to assist with activities, Olive Tree and other support groups are offering assistance and SHA staff have been in contact with the displaced people who in some cases left with the clothes they were wearing.
"The Canadian Red Cross is supporting them with registration services, access to funding for some personal needs for community members. The city has reached out to the emergency management group to provide whatever services the community needs. At this time, we are doing some recreational facility access and making sure that people have something to do while they are displaced and in the city of Lloydminster," says DeGruchy.
The emergency manager adds they have everything they need and there's no need for donations at this time.
Meanwhile, band councillor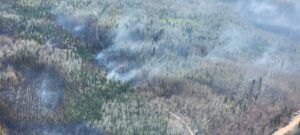 with Clearwater River Roy Cheecham says five buses have left the community to take people down south. He said there are about 1500 people in the community, and some have refused to leave as they stay to protect their homes. He adds there are 900 registered evacuees.
"There was a mandatory evacuation which happened. Those buses left sometime during the night. I was on the frontlines with people fighting the fire and our staff are working at the command centre dealing with that – and collecting information, sending people and figuring out accommodation," says Cheecham.
He says they remain in tou
ch with displaced community members and staff from the band office will be travelling to communities like Lloydminster and Meadow Lake to meet in-person with evacuees.
Cheecham adds there has been no loss of life or animals and the fire crews "are holding their own." He
adds there is heavy equipment to build fire breaks, ground crews are putting out hot spots and aircraft are bringing in water from nearby lakes.