The end of the school term is getting closer as another of the 300-pound Faces of Lloydminster sculptures painted by students is being unveiled at College Park.
The brain-wave of sculptor Mick Classen is seeing another of the 17 six-foot concrete creations being installed, after some 30 students with the LPSD Art Academy painted with artistic flair to colour the grey fiberglass reinforced surface.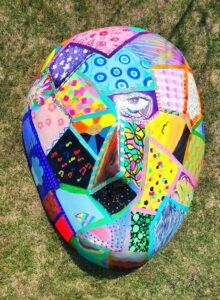 Grade six artist Bentley Rivett said they put four months into the project which now sits level on the grass of the school playground.
"So mine is an evil eye. I got the idea from Sophie – my best friend. She did a whole bunch of eyes and lips but with hearts – those were cool. I also did a Minion that works at McDonald's and Sophie did dolphins."
Over the school year, the art group tackled a few in-school plays with direction from Kathryn Edwards of Centre Stage Studios.
Art Academy coordinator Brandi Hofer says the group has grown in several ways as some were reserved, but are now finding their voice.
"This is an accumulation and a perfect example of how important, powerful and impactful the arts can be and what it means to the community. And we are highlighting and emphasizing that through working with the youth. These children have grown so much from the beginning of the year."
Hofer says that working with a project like the Faces of Lloydminster gives the youth confidence as they see the power of their art in the community.
Another product of the first year of the LPSD Art Academy, Lilly Sirett says her addition to the giant Face was a starry summer sky. She was also impressed by another tile that depicted musical notes and says the project is very significant to the class.
"It means togetherness and cooperation. Just working together on a bunch of different pieces and how beautiful each person's form of art can be."