École St. Thomas Elementary students are sending gifts overseas to exemplify spreading kindness to others.
The Grade 2 class has spent the past week making crosses out of beads and writing cards to be sent to the Canadian Forces members overseas. Battlefords-Lloydminster MP Rosemarie Falk stopped by the school on March 2 to pick up the handmade gifts.
"I'm going to deliver these crosses and cards to Ottawa and hopefully have a one-on-one conversation with Minister [Harjit] Sajjan and ask him to deliver these overseas to soldiers."
The cards and crosses are one of the school's kindness projects funded by Beyond Borders Circle of Change. While most projects focused on being kind to others within the Lloydminster community, teacher Gilberte Michaud was looking to go a bit further. She says the goal of the project was to show the students to be kind to others no matter the distance.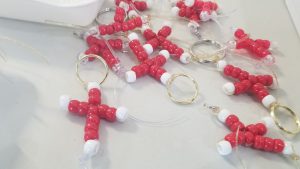 "We picked the soldiers because they are away from their families. They don't get to see their families and they're trying to do hard work that isn't necessarily easy."
The idea follows in the footsteps of another project the class has done. Before the Christmas break, the children wrote letters to soldiers stationed outside the country thanking them for their work. 
The letters were delivered to the soldiers by Defense Minister Sajjan. Michaud says the students were elated when a picture was sent back to them and are hoping for another.
"This is to show them that we are thinking about them all the time not just at Christmas but throughout the year. We felt that Kindness Day was a good opportunity to talk about and pray for the soldiers."
Falk says the initiative reinforces the kindness and generous qualities Canadians are known for.
"It's so great to see this being initiated at such a young age. You don't have to just be kind to the confines of the room you're in but you can go globally with it."