The Lloydminster Chamber of Commerce has a new president.
During the group's annual general meeting on Tuesday, outgoing president Kevin Kraft handed the gavel over to Angela Minish, who will lead the chamber in 2017. Three new members were also introduced to the board of the chamber, as three others were retiring.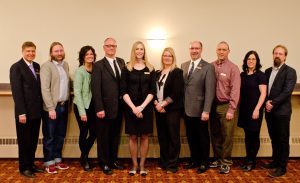 The meeting allowed members to go over the goals of 2017, as well as what had been achieved over the last year. The move from Alberta's government to introduce a carbon tax grant program in Lloydminster was celebrated as a victory, as well as the efforts of the chamber to reach out to the local business community.
Reached after the meeting, Minish said the chamber would be examining the health of Lloydminster in 2017, with a focus on the memorandum of understanding between Alberta and Saskatchewan for the provision of health services for the committee. She also said the chamber would work on getting more flights in and out of the Lloydminster Airport.
As for the carbon tax grant program, she said the chamber would be watching to see how the program works for local retailers.
"We're glad," said Minish.
"We've been advocating and lobbying the municipal government, as well as the provincial government, for about seven and half, eight months right now. It's great to see this come to fruition, and being able to have our situation looked at, because we are bi-provincial."
From left: 1st Vice President: Dabir Naqvi, Aron Klassen, Deanna Wandler, Past President: Kevin Kraft, President: Angela Minish, Tara Ferguson, Rob Saunders, Mark Witzaney, Kelly Tobler, Finance Director: Kevin Lundell. Missing: Gerald Albers – City Appointed