Kindergarten students from Mother Teresa School are taking the spring time to learn all about bees.
For the past six weeks the class has been taking steps inside the classroom to be more educated around bees and to finish the unit, the class took a tour of a hobby bee farm in the backyard of Laurie Makichuk, a Bee Keeping Enthusiast for the Lloydminster Catholic School Division (LCSD).
In the backyard, there was six centres set up for the children to visit and rotate, including a centre where kids plant sunflowers, decorate flower shaped cookies and a demonstration of honey extraction.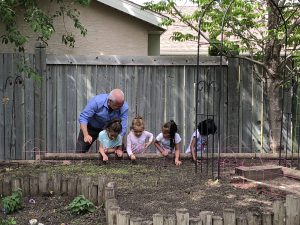 Kindergarten Student Keelyn Hautzinger says she learned that bees don't hibernate.
"We're learning about bees and having lots of fun activities and centres."
She adds that planting flowers are important "because the bees need some nectar and pollen."
This was the final day of the "Bee Inquiry" unit that Makichuk says was a great way to provide the kids with a hands on learning experience.
"It's important to the environment mostly for the kids to understand how important bees are to pollinating and the healthiness of plants and growing things that feed us. We need to take care of our bees."
Mother Teresa School and Makichuk have also started an observational hive, where students got a queen bee and watched the hive go to work producing honey.
The hive now goes to different classrooms in LCSD as a resource for the students to use in their learning.