The Lloydminster Public School Division has addressed student safety after a recent internet trend. LPSD took to Facebook this week to inform parents that school staff are taking action towards the recent "Momo Challenge" making rounds on social media that is said to encourage self-harm in children.
Although there are reports of the "challenge" being a hoax, the school division wants to make it clear that students have been talking about the trend and staff are speaking to kids about it.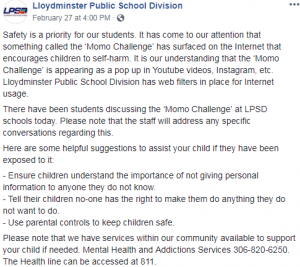 LPSD suggests helpful tips for those who have brought up the "challenge". They encourage parents to speak to children about the importance of not giving away personal information to people they don't know. LPSD adds no one has the right to make them do things they don't want to. Also, they suggest parents use specific control settings on devices to keep children safe.
Community services can be reached if children are in need of support. You can reach Mental Health and Addictions Services at (306) 820-6250 or the Health Line at 811. LPSD has filters in place for certain internet content on school computers
.