The Lloydminster Cultural and Science Centre is hosting a new exhibit to further reconciliation. The Strengthening Your Path is showing LPSD student art alongside indigenous artifacts to bring reconciliation into the public school division.
The exhibit is a collaboration between LPSD schools and students who have created projects for it. All students learned about indigenous culture, language and history like residential schools, while grades 4 and older made projects for the exhibit. Two fifth grade LPSD students, Naomi and Benz, worked on a project highlighting the experience of residential schools.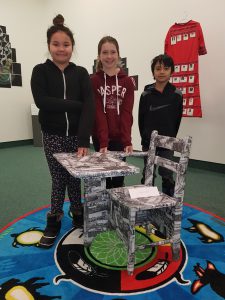 "We got to represent the residential schools, and it was bad how they took away the culture and language from the Cree and First Nations," says Benz.
The piece is a chair and school desk with pictures from residential schools glued on. Every recess, students would go to glue more on. Although it was a lot of work, Brand says it was worth it.
"It felt great because you get to be part of something, and you kind of feel like you helped, even just a little bit," says Naomi. The piece is coupled with a video showing interviews with indigenous people who help teach indigenous languages in schools.
The LPSD Aboriginal Coordinator, Cheryl Thomas, helped organize a lot of learning for the children. She organized Cree elders and knowledge keepers to come in and teach the students. Thomas says that many LPSD students have taken an interest in learning Cree, and were especially excited to hear about indigenous teachings.
"The students were really taken in by all the different teachings that they learnt. Because they had so many questions, and they were really good questions. That shows that they were learning and engaged with the teachings in that sharing time," says Thomas.
Thomas brought her own moss bag once used to carry her baby daughter. The bag is decorated with traditional beadwork and is accompanied with a picture behind a glass case. It's just one of the many pieces of indigenous culture on display at the exhibit. Thomas also believes that the exhibit is only one part of the reconciliation that's actively taking place in the LPSD.
"Students took on projects for themselves where they could come out and learn more about the teachings and build that relationship with the elders and the young students. That's how teachings were shared a long time ago, is when the elders would come, and young people would sit around the elders and learn these teachings. It's nice to bring that back into our communities."
The Strengthening Your Path exhibit runs at the Lloydminster Cultural and Science Centre until April 27.