UPDATE 2: Jeremiah Sokwaypnace has been located safe.
---
UPDATE: The Lloydminster RCMP is still seeking help locating Jeremiah Sokwaypnace. A screenshot of a Facebook post was added to a local media page indicating Jeremiah has been located and is safe. Mounties say this is not the case.
The RCMP says missing person's cases are taken very seriously and it hinders the investigation when misinformation is spread as if it were fact. Jeremiah is still missing; anyone who with information about his whereabouts is asked to contact the Lloydminster RCMP at (780) 808-8400.
---
The Lloydminster RCMP is asking for the public's help finding a missing 12-year-old. Jeremiah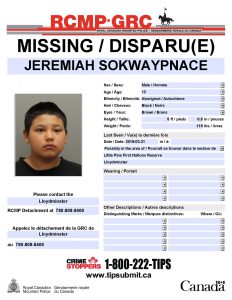 Sokwaypnace (also goes by the name Jeremiah Fox) was seen on March 21 and Mounties are concerned for Jeremiah's well-being.
Jeremiah is described as 5'10" tall, 119 lbs., black-haired with brown eyes. Jeremiah has ties to several communities in Alberta and Saskatchewan and may be somewhere on the Little Pine First Nation or in Lloydminster area. Attempts to locate Jeremiah have been so far unsuccessful.
Lloydminster RCMP members are asking anyone with information on this incident to contact them at (780) 808-8400 or your local police. If you wish to remain anonymous, you can contact Crime Stoppers at 1-800-222-8477(TIPS).