The Lloydminster Rescue Squad's abilities have been bolstered with a new vehicle. Boundary Ford, through the Boundary Ford Gives initiative, has presented the Rescue Squad with a custom 2019 Polaris Ranger XP 1000, NorthStar Edition, to help them save lives.
Dubbed the "Rescue Ranger", this custom vehicle is meant to withstand extreme conditions and terrain. Steve Cassidy, marketing manager at Boundary Ford, helped arrange it for the Lloydminster Rescue Squad and sees it as a way of giving back to the community.
"We need our community. We need the people here for us to be able to function, turn the lights on every day and feed the families that work here," said Cassidy. "It's very important for us to give back, we're just very fortunate we have the ability to do that. That, to me personally, and the rest of this team here, I know means absolutely everything."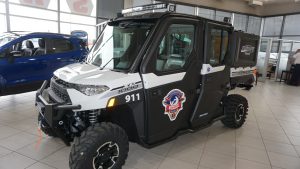 This unit came to be in part from a conversation between Boundary Ford and the Lloydminster Rescue Squad. They sat down with Boundary Ford's marketing manager, Steve Cassidy, about the need for a vehicle. It was mentioned that an off-roading vehicle was used on a rescue mission the week prior, but the victim didn't survive. Cassidy knew just how they could help, with just a few modifications.
"Essentially, we needed to tweak it up. We need to make it a little bit beefier. We needed to give it a little bit better suspension, and get it to a point where if these guys were ever to get into an extreme circumstance, these guys would be able to pull through it."
The unit features 360-degree emergency lighting so those driving will be able to see everything. Front and back cameras help them monitor for tracks and debris, and a GPS beacon is also in the unit to help it be trackable in the field. Full heating and air conditioning are present in a closed-cab to protect those inside from extreme elements, overheating and hypothermia.
The unit also has room for four people inside of it. The Rescue Squad can bring a team of four, or bring a search dog or their drone with them. It offers lots of space to also fit EMS personnel and equipment on a mission. This Ranger XP is made for extreme conditions and can be further modified to fit tracks on it for better traction in snow.
The unit will be put to work in the field saving lives when the Lloydminster Rescue Squad is dispatched. Cassidy is excited to have found this unit to them and what it means for their capabilities.
"If this came looking for me in the bush, and I was ever in dire need, I'd be super excited to see it, that's for sure."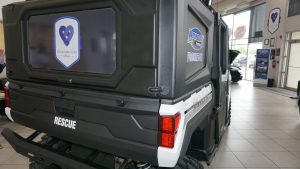 Norm Namur, chief of the Lloydminster Rescue Squad, was speechless when it was unveiled. On top of being humbled by the donation, he recognizes how it may help them accomplish missions beyond the community of Lloydminster. Namur looks forward to how the Ranger XP can be used as a community asset.
"We're taken back at the kindness and generous donation that Boundary Ford Gives and Boundary Ford has given to us," said Namur. "It's a wonderful asset for us. It's going to be used in our community, for the community. It will also prevent further injuries to our members, and hopefully, prevent further injury to those who are lost."