A local food drive is looking to help keep the shelves of the Lloydminster Salvation Army full. The Church of Jesus Christ of Latter-day Saints will be dropping off food collection bags at homes across the city for a sixth year.
The bags will be dropped off between Tuesday and Thursday and picked up on Saturday morning from 10 a.m. to 12 p.m. and taken to the Salvation Army.
Food drive coordinator Darryl Oster says the drive is something the Church looks forward to every year.
"This is a great opportunity for us to serve the residents of Lloydminster and to partner with the Salvation Army. We believe in giving back to communities and this is one small way we can do that by making sure everybody has a chance to give."
Oster says Lloydminster is a supportive community and residents have been generous in the past food drives.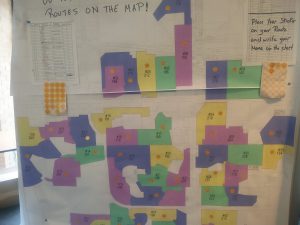 "Last year [we had] 12,000 pounds that means most households gave something. It's like a pound of food per household or more so it's pretty cool how the citizens have embraced it and given back. We're happy to be a part of it."
Canned items, pasta, peanut butter and other non-perishable food items can be donated. The donation bags can be left on the porch or somewhere visible in front of the house for pick up. 
Oster asks to check the expiry date on the items before donating. The bags will also come with some donation suggestions for those unsure of what to donate.
Oster says the 12,000 pounds donated last year would serve about 200 people and would support the Salvation Army until December.
This year's goal is to raise 13,000 pounds of food. Those who aren't able to donate during the drive can also drop off donations at the Salvation Army located on 2302 53 Avenue.