On Tuesday night 3 fire trucks and 3 cop cars lit up the dark night while responding to Southwind apartments. 
At 9:02 p.m., the Fire Department received a call from a resident in the building that there was smoke on the second floor. Within 4 minutes, firefighters were on the scene and checking the building.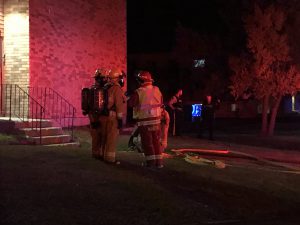 Fire Chief Jordan Newton, says that by the time they got there the fire was put out.  
"The Fire Department received a report of a lot of smoke coming from the second floor of the Southwind apartments. (The) Fire Department responded quickly and upon investigation, found that it was a burnt cooking with a grease pot."
Fire trucks from both stations were on the scene. The resident of the apartment said that it was an accident while making popcorn.
"The public has always been very supportive of the Fire Department and other First Responders in the city. They know that we have a job to do, and we do thank all residents that do pull over for emergency vehicles so they can safely and efficiently get to the scene," says Newton. 
Lloydminster currently has 6 fire trucks and 3 command trucks.