RCMP "F" Division Roving Traffic Unit arrested an Edmonton driver outside of Maidstone.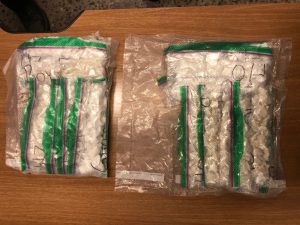 During a traffic stop on Highway 16 on Wednesday, December 4, an officer suspected there were drugs in the vehicle. They detained both the man and the vehicle for a drug investigation. After further investigation, they arrested Mark Adlington for possession of a controlled substance for the purpose of trafficking. 
The search of the vehicle resulted in the seizure of about 261 individual bags of powdered cocaine and 435 individual bags of crack cocaine, weighing approximately 617 grams.
Adlington was released from custody and will appear in Lloydminster Provincial Court on Tuesday, January 28 at 10:00 a.m.