The City has set August 5th as the due date for the Property Assessment Survey.
Normally, assessors would go door-to-door to complete the survey, but due to the risk of COVID-19 spread, the city decided to set up ways of doing it virtually. This year, properties needing to be re-assessed are all south of 25 Street and west of 59 Avenue, below Highway 16. Homeowners can complete the survey online, over the phone or send it back in the mail.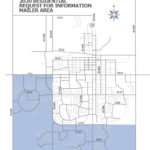 Applicable residents or property owners were sent their documentation in the mail via Canada Post on June 5th. There is also a survey key, necessary to complete the survey with their information.
Property owners who don't complete the survey before the August 5th deadline forfeit the right to file an assessment complaint for the following year.
Anyone needing more information is urged to contact the City's assessment department via email.