As part of their Indigenous Studies class, Lloydminster Public School Division students the importance and history behind one of the most iconic Indigenous structures.
A teepee was raised in front of Barr Colony School with Grade 4 students learning about what it means in Indigenous culture. Clint Chocan, LPSD Coordinator of Learning and Instruction, says the teepee is used to teach virtues and how the structure itself was used as a lunar calendar. He says every part of it teaches a lesson.
"There are 15 poles in use and with that virtues are shared. Obedience, respect, humility, faith, happiness, love and all these other virtues that are connected to each pole. As well, teaching the strength of the rope that brings the poles together."
Chocan mentioned building a teepee was historically put-up by women and they would have to use resources in their surroundings to help cover the structure with animal hide. He says it's important for children to learn about a past not shared in the Canadian education system for a long-time and helps towards the path of reconciliation.
"When you don't learn the past, you don't realize what was contributed by the Indigenous people in Canada."
"It's needed because of this thing we call reconciliation. Without understanding we don't accept each other and we don't build these better communities."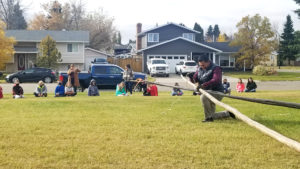 Grade 4 teacher Amie Burrell says the class learns about the history of teepees as well as treaties and Indigenous land. She says the raising is one of the most exciting moments for students and they are always
"They love learning all this stuff. They're little sponges and take it all in."
Chocan says they will be demonstrating the teachings for all LPSD schools throughout the next week.