After the last two-years, even the athletes had doubts whether they would see any competitive action this season. But they did and the emotional delight was real as students mounted the stage to celebrate their achievements on the field.
Tuesday evening, Lloydminster Comprehensive hosted their Baron Pride awards, once again in-person.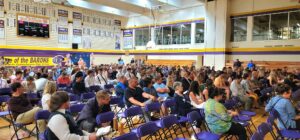 Athletes from rookies to provincial gold medal winners in all sporting disciplines including rugby, basketball, volleyball, football, track and field were being saluted for representing their school and area.
The emotion was especially deep for grade 12s like Shepherd Gow. The knowledge of their final year; that they worked hard and they can take the victories while facing the challenges.
Gow won MVP awards in volleyball and the Barons Pride for basketball. He sees the overall success of the athletes.
"The school cleaned up around here. We did pretty well in all sports including volleyball, basketball, badminton and track especially. A lot of these athletes are going to be here next year and they are going to do a lot. They are going to clean up next year as well."
Gow will be heading to Lakeland College to continue his volleyball and pursue a university transfer in sciences.
Lloyd Comp is also celebrating hardware from the high school provincials in Regina where Jake McEachern took gold in the discus and shotput events and Liam Oster took gold in the Junior Boys 100 metre hurdles. The track team placed 5th in the province and were the only team that did not have grade 9s counting towards their total.
Also, LCHS golfers placed third in the team event at provincials. Their badminton players including Shepherd Gow & Ara Huerto won bronze and Krezhanna Delima & Bree Brassard won silver.
Vice principal and director of athletics Doug Smith spoke of the hard work and training of their student athletes in the various sports as well as the return of the Hugh Morrel basketball tournament. He noted they have some provincial accolades to raise in their barn.
"We have some provincial champions going up here. Quite a few top three in the province in various sports and we will have our 5A north sportsmanship award for the seniors boys volleyball team which is a huge honour going up here as well."
The senior boys volleyball team won the SHSAA Volleyball Sportsmanship Award.
Smith says they will install those banners in the new school year as motivation for their athletes next season.