The students of the Lloydminster Public School Division (LPSD) have learned an important lesson in bus safety.
On Wednesday, September 7, students at Barr Colony School were instructed on how to properly exit the school bus in case of emergency, based on instruction from the driver. The bus evacuation drill is done once annually, at the beginning of each school year.
"We do it at the elementary level. So all of our 'K to 6' students go through the process. Pat Bucknell, our Transportation Manager, put this process together a number of years ago and it's certainly something, that I know, has become an annual event for us, and our schools do look forward to it," explains Superintendent of Human Resources with the LPSD, Scott Wouters.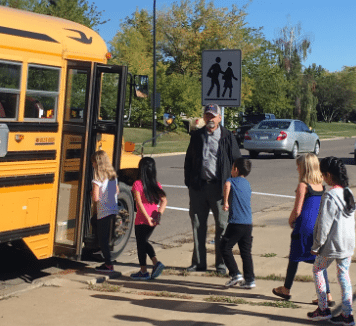 Students are also shown where the window and roof exits are and how to open them safely, but according to Principal at Barr Colony, Ryan Mather, the children only practice safe, timely, and organized evacuation from the rear.
"The number one rule, and this is the rule that we stress with any situation, is to listen to the adult, so in this case, the bus driver. Students may have a different bus driver if it's a field trip, it might not be the regular route driver, but the important thing is to listen to the driver. So follow those instructions. They did show them where the various exits were, both on the sides of the bus, as well as on the back. There may be a situation where the adult is not able to give those instructions, which is why it's important to practice these drills as well, so then they would have an idea, 'this is what I would do,'" says Mather.
Wouters says that there has never been a need for an emergency evacuation of an LPSD school bus in his entire time with the Division, for which he is thankful. He estimates that approximately 3,000 students are bused to and from LPSD schools every weekday of the school year.