A daycare in the Border City will be closing their doors in April.
Footprints Family Centre, which is based out of the Ecole St.Thomas building in the west end of Lloydminster, has announced that they will be ceasing operations as of April 15, 2017. The facility had been in operation since October 1, 2013, overseen by Catholic Social Services (CSS).
According to Jason Gariepy, the communications manager for the Edmonton office of CSS, the daycare had struggled for the last three years to fill their 72-space daycare, with the organization having to subsidize the operations of Footprints. He said the utilization rate had been at around 50 per cent.
"When we did a thorough evaluation of the operation, it was determined to close it, so we could focus on other social services priorities," said Gariepy.
Gariepy also indicated the decision to shut the facility down was made two weeks ago.
"To operate the type of childcare system that we desire, and to pay our staff appropriately and fairly, we needed to have a much higher utilization rate for that program," said Gariepy.
When asked about the reactions of users of the facility to the closure, Gariepy said the decision was final.
"Look, I'm a parent as well," said Gariepy.
"If my children were in a daycare program, and we were notified that the daycare program was shutting down, you build a routine around that. Your son or daughter may have some friendships there. There are a lot of factors that will upset parents. That's why it took us a long time to reach this decision, because we know that this is a stressful point for people that are going to have to find alternatives, and it's a disappointment for them."
Gariepy also stated he would be surprised if nothing replaced the daycare after Footprints vacates its current space. However, he said whoever came next would have to analyze their chances of success carefully.
"We're Catholic Social Services, so we're a faith based organization," said Gariepy.
"We have ministries that have very vulnerable people involved in them, and so we're going to focus our energies on that. We're going to avoid, at least in the short term, anything to do with childcare like we did in Lloydminster."
With the closing of the centre, the Lloydminster Catholic School Division has issued a request for submissions to provide daycare in the space formerly occupied by Footprints.
According to the notice, the division would want to see the space being used by a provider by April 25, 2017, or a date agreed to by the provider and the division.
The notice asking for submissions space be seen here: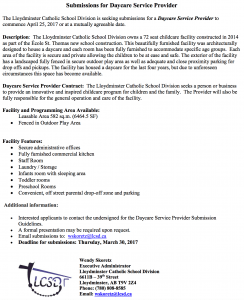 The deadline for submissions is March 30, 2017.