A police chase ended at the centre of the Border City on Friday afternoon.
According to Corporal Kelly Sikorski with the Lloydminster RCMP, the chase began after an off-duty officer from the Onion Lake RCMP noticed an erratic driver in a minivan heading south towards Lloydminster on Highway 17. After the officer notified on-duty members, the driver of the minivan rammed the officer's personal vehicle, and headed north to Onion Lake.
As the incident progressed, the driver of the minivan turned south back towards Lloydminster, and ended up within the city limits. Sikorski said that members of the Lloydminster detachment located the vehicle headed the wrong direction on 44 Street, during rush hour traffic.
"The suspect witnessed the police, he was riding on one wheel, and attempted to turn around," said Sikorski.
"He was then boxed in."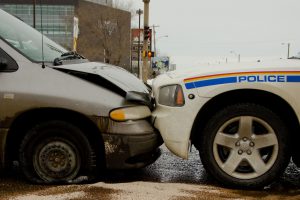 Two police cruisers were used to stop the minivan near the intersection of 44 Street and 50 Avenue around 5:45 p.m. The driver of the minivan was removed from the vehicle and arrested for impaired operation of a motor vehicle.
Sikorski said an officer suffered a cut to the hand during the arrest, while the man was left with a superficial cut to the face. The man was taken to hospital after being arrested.
Traffic was disrupted while the police processed the scene. As more official information becomes available about the incident, this story will be updated.