Onion Lake Cree Nation, Lakeland College, the Lieutenant Governor of Saskatchewan and members of the community gathered at Holy Rosary High School (HRHS) to raise the Treaty Six and Metis flags as a way of moving forward in the reconciliation process.
As part of Aboriginal Awareness Week, the Lloydminster Catholic School Division has put on events throughout the week to teach their students about the Aboriginal culture. On Wednesday, the division held a ceremony outside the high school where the flags were raised.
Lieutenant Governor of Saskatchewan the Honourable W. Thomas Molloy says it is important to have events like these in order to move forward.
"It's a sign of reconciliation, a sign of people and communities coming together to try and work together and to try right some of the wrongs in the past."
Grade 11 Student at HRHS Aislinn Whitstone is a representative of Onion Lake and spoke on behalf of her people. She says that being part of the ceremony meant a lot to her.
"It means that I'm representing my future, my community, myself as an Aboriginal person and as a Plains Cree and my family."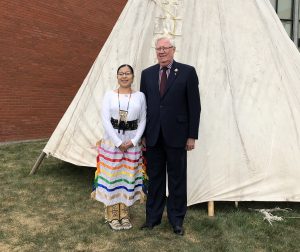 Principal of HRHS Vince Orieux says the flag raising symbolizes the partnership they have with First Nations people.
"We have a diverse school population. We wanted to do our part with the truth and reconciliation commission. We felt it was important for our staff, our students and our school division to become involved in something like this and we're proud to do it."