Everyone's A Winner When You Give Back To The Community
Giving back to your community does so much to help those in need and contribute to the common good.
The Saskatchewan Indian Gaming Authority (SIGA) is a non-profit organization that returns all profit to Saskatchewan communities.  Through the operation of seven First Nation gaming entertainment destinations, SIGA is strengthening the lives of First Nation people through employment, economic growth, and positive community relations.
The History
On June 10, 1995, the "FSIN First Nation Gaming Act" became a reality and a management body was created.
The Saskatchewan Indian Gaming Authority is 100% First Nation-owned and-operated. Since 1996, SIGA has been incorporated under the Non-Profit Corporation Act of Saskatchewan, designated as a charitable corporation with 100% of profits being returned to their beneficiaries.
In the early 90s, the 74 First Nations in Saskatchewan established SIGA as a means to create opportunity. From their very humble beginnings to a multi-million dollar business employing over 1,900 people, SIGA is a success story that demonstrates the results of a shared vision of past Elders and leaders to develop a means of long-term sustainable economic development opportunities for First Nation people.
Their mandate is to:
Create First Nation employment and focus on employee development;
Spur First Nation economic development through the development of the gaming industry;
Maximize earnings to First Nation people.
One Of A Kind
SIGA is the only First Nation-owned and-operated gaming business that is also a non-profit company, distributing all profits back to the communities where they live and work.
They help to build stronger, more vibrant communities through profit-sharing and community investment.
100% of profits are returned to Saskatchewan communities with 50% to the First Nations Trust, 25% to Community Development Corporations, and 25% to the province's General Revenue Fund.
On top of this, SIGA invests $1.3 million annually through their community investment program to fund hundreds of charitable events and initiatives each year.
SIGA volunteers support many of these events, giving their time and passion to the causes that SIGA supports.
Last year alone, 29% of SIGA employees (about 1,900) volunteered with the company. 
Siga Shares Its Success With The Community In 3 Ways
Sponsorship Program
SIGA's sponsorship program provides a $1.25 million annual investment into charitable and non-profit organizations based in Saskatchewan, with a focus on youth, Elders, and those who are socially, physically and economically disadvantaged.
Scholarship Program
SIGA encourages education and continued learning through their First Nation Scholarship Awards Program.  Visit www.sigascholarships.cato learn more.
Volunteer Program
SIGA is committed to supporting community initiatives through their employee-supported volunteer program.  Each year, SIGA employees from all seven casinos and SIGA's central offices invest thousands of volunteer hours to make local communities stronger, more vibrant places to live.  
Vision
SIGA will deliver sustainable net income and employment opportunities to support First Nation development in Saskatchewan.
Mission
SIGA will strengthen the lives of First Nation people through employment, economic growth, positive community relations and achieving financial self-reliance. This will be done through the operation of distinctive First Nation gaming destination resorts that reflect the traditional aspects of their First Nation culture and hospitality.
Find Out More
For more on what makes SIGA so unique to the community, visit their website at www.siga.ca
---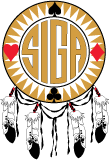 Saskatchewan Indian Gaming Authority
250-103C Packham Avenue
Saskatoon, Saskatchewan, Canada S7N 4K4
Phone: 306-477-7777
Fax: 306-477-7582
Website: www.siga.ca
Email: [email protected]
---