On the celebration of Canada's 152nd birthday, some residents showed their international pride. Eleven different food vendors and nearly two dozen entertainment acts celebrated their cultural diversity at the 6th annual multicultural showcase "We are One, no Borders".
Organized by the Catholic Social Services, the showcase highlighted the many different cultures that call Canada home. Traditional dress, food, music and dancing was celebrated at Lakeland College's gym. China, Pakistan, India, Jamaica, and other cultures were represented by Canadians celebrating their heritage. Cheryl Ross, organizer of the showcase, says months of planning went into making it a success and that she couldn't be happier with how it came together.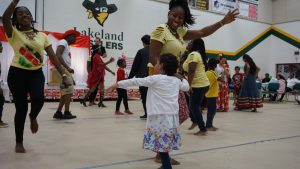 "I am absolutely beyond thrilled," says Ross. "It seems like a lot of work, but when you see the families and multicultural part of our community, it is outstanding."
Ross is a Métis woman who's called the Border City home for more than 25 years. Traditionally, the Métis have been considered traders and facilitators of exchange. The Métis came from unions between indigenous people and fur traders in the early days of Canada. Ross took great pleasure in help organize the various cultures, including access to a commercial kitchen.
Earlier that morning, each member of the cultural backgrounds prepared food for the event at Avery Outreach School. Ross let them into the building and took great pleasure watching each of the different cultures cook together. She believes the action of bringing diverse backgrounds together is something the Métis are known for throughout history.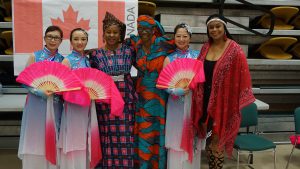 "Regardless of colour, creed, race. It's apart of our culture, and bringing people together is what we do best. I just feel that as a person who's lived here [more than twenty-five] years that it's very important."
The event was hosted by Susan Cambridge who's been hosting it since 2014. Cambridge's own background is from Trinidad and Tobago, where she says cultural diversity is celebrated and shared. As an immigrant, she loves seeing the diversity of cultures that call Canada home and sees great value in the sharing of culture.
"When you look at the rich, diverse heritage of what makes Canada; when you come here, you can't help but feel that you want to share," says Cambridge. "You want to be part of Canada, you want to work to become a citizen, but you also want to impart a bit of where you came from. You gain both sides; you gain being a Canadian as well as you bring a bit of what brought you here."