Canadian Natural is partnering with the city to help get people moving and healthy. The company is sponsoring the Agland Fitness Track in the Servus Sports Centre making it free to use in September and October.
City of Lloydminster Manager of Program and Events Cindy Rekimowich says Canadian Natural was interested in providing something to the community where people of all ages could get involved.
"Kids could come here from 2 to any age and seniors come and use our track. So it was a way to reach a lot of people and also provide access for people that can't afford it. [Also] provide people that can afford it to come and use the track more often and get active."
Along with opening the track to everyone, the city is promoting their Walk Across Canada program. People can keep track of the distance they've walked on the track individually or with a team of up to 4. Walkers can tell a staff member who will note the distance and place their names on a board where every kilometre on the track equals 10 kilometres on the board.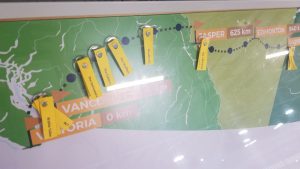 Several cities on the map act as markers and for each marker passed the runner will have their name put into a draw for a prize pack. There are 14 markers starting from Victoria and ending in St. John's.
Fitness Supervisor Haley Howland says they want to get everybody in the community to get out and be healthy.
"Our end goal is to get people [into] active living, healthy lifestyle and to promote walking. It's such a good activity that really anybody can do and it's indoors [so] there are no barriers."
Howland says now is a good time for the track to be free as the weather starts to get cooler and after school programs begin.
"As hockey starts up again and soccer starts again if those parents or visitors don't want to sit and watch they can take advantage of this track while their child is still in the field house below them."
The promotion runs for the same period that the track will be free to use which is September 1 to October 31. Howland says in the 12 days the track has been free to use, Lloydminster residents have walked a combined 503 kilometres which is the distance between from Lloydminster to Calgary.