A local woman who volunteers with the Lloydminster Rescue Squad is sharing about what that opportunity means to her and especially the role of the canine companions who assist in finding missing persons.
Stacy Thornton has been with the rescue squad for almost five years and in that time her role has evolved within the organization to care for two dogs , Trooper and Lava.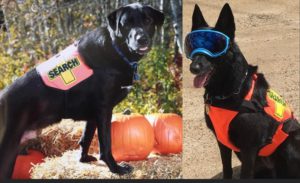 Thornton came onboard initially through an Edmonton group that had linked up with Lloydminster Rescue for training. She wore two hats for some time and then switched to the Border City group full time. She has been involved with all aspects of rescue including search and rescue and extrication with a vehicle, but the dogs have come on as a real passion.
Eight year-old Trooper is a male Labrador-cross who started rescue work when he was a year and six months old. Lava is a six year-old female Belgian Malinois who started training as a pup.
Thornton talks about her rescue dogs with a sensitivity for the work that they do in recovery.
"They look for missing people both alive and deceased on land and as well on water. So if somebody has drowned they work off the boat and find the missing person in the water. There has been finds of people around 253 feet deep in the water."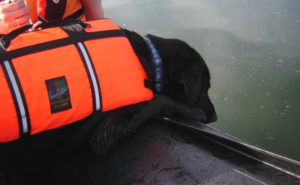 The work of the local rescue squad takes Thornton, and her two furry charges, Trooper and Lava to parts of Northern Saskatchewan as well as British Columbia and Alberta. The dogs will sniff or taste the water and when they pick up the scent the handler has to be in tune with their body language to determine the next course of action. It's important as well, if water conditions are not safe, to ensure that the dogs stay on the boat and not go into the water.
They train with the dogs  typically once a week throughout the year. There are also weekend training seminars. Thornton talks about the fun aspect of the training and rewarding the dogs for their rescue work.
"[It] starts out just a fun game with a new dog wanting to find live people, and then just keep making the game a little bit harder all the time until you've got that range where they are comfortable with leaving the handler and doing their work on their own."
With the COVID pandemic Thornton says one change is that with physical distancing, they can no longer go out with a large search party. They have to manage their own personal protective equipment and also stay updated on the various restrictions among provinces.
The Lloydminster Rescue Squad has some 25 people who volunteer their time. Thornton shares that this work is very dear to her.
"A lot of us do it because we want to help people and it's the kindness and compassion that we have for helping people. To just find the satisfaction to be able to do what we do is rewarding enough on it's own."
The Lloydminster Rescue Squad has been serving the Midwest region since 1984 and are grateful for all the community support that has sustained their operations.