Donations are still being accepted and tallied following last Friday's 12-hour Play It Forward hockey match which saw 44-players put their skills to the test for a fundraiser.
Team Blue got past Team White but only just, scoring 75 goals to 74 in the half-day affair to hoist the inaugural trophy. But the match was not really about the final score as from player pledges and donations which are still coming in, Border City Connects is over $60,000 and counting says Glenn Fagnan.
"It's fantastic. We're so pleased that we raised this amount of money and I'm sure there's going to be a few pesos more. It's just great to see the community support, to see these players come out and take their day off work to raise all kinds of funds for us. It's very heartwarming; the refereeing; all our volunteers. It's great."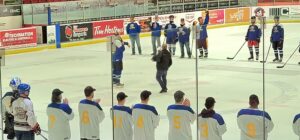 The fundraiser is going towards a new wheelchair lift van to assist Border City Connects in transporting their clients to appointments. The non-profit had lost one of their vans in a pre-pandemic fire. As demand for their service is returning to regular capacity, organizers will welcome the advent of the new ride.
"We're just waiting for a little bit of additional funding. We are supposed to be getting some from the Saskatchewan government. We got the unit picked out and it's just a matter of placing the order and then it's about 90-days to get the unit here."
The players are recovering from their sore muscles as organizers express gratitude and celebrate their heroics with donations to Border City Connects still coming in.