Council once again discussed expanding the Bud Miller Tennis Courts during Council on Monday.
The contract was previously approved to be awarded to Bexson Construction for $273, 000 with all but one councillor in favour. Councillor Stephanie Brown Munro voted against awarding the contract during the May 8 meeting because she felt she didn't have enough information on usage.
During the most recent sitting, those numbers were provided.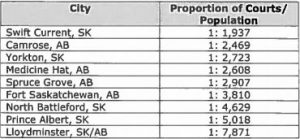 According to the numbers provided in the agenda, the City of Lloydminster has about 1 court for every 7, 871 people.
Councillor Brown Munro voted in favour of expansion during today's council meeting.
"It wasn't that I was against recreational facilities at all, but I just needed the numbers and the justification to why we're spending those funds before we did. So, I'm extremely excited."
She adds that seeing after seeing the numbers it made the decision easier and goes on to say, "if we want to have this impression that we have opportunities for everyone within our community, then we have to include everybody. Just 'cause you don't play tennis, it doesn't mean that it's not important to someone else, we have to respect that and provide those opportunities for everyone."
The cost for the project was also revisited and a new foundation structure was decided upon, reducing the cost from $273, 000 to $238, 548.
The city also asked for a different location to be looked at. Bexson Construction provided an estimate for a second location at Kin-Kinette Park. The quote was $312, 374, proving to be much more expensive.
Mayor Gerald Aalbers says, "I think it was a learning experience for both council and administration oh how much we have to dig into things before we get the full picture and the full package."
He adds "I thank administration and the contractor. They went back, reviewed the proposal and now we [have] a cost reduction."
The project is being fully funded by the 2017 Municipal Sustainability Initiative.
The Lloydminster Tennis Association has also committed to $20, 000 to the development of the two new courts and have also committed to raise more money for the development of courts in other areas.