City Council and Administration are continuing to work on the 2018 Budget.
On Monday, council was presented with the second draft of the budget which provided more detail into expenses and revenues. One thing that remained unchanged was the proposed tax increase. For residential properties, the increase would be one mill, which means homes valued at $350,000 would see a tax increase of $350 a year or $29 a month. For commercial properties, the factor would increase by 0.2, which means properties valued at $1 million would see a tax increase of $2,692 a year or $224 a month. However, Mayor Gerald Aalbers says this could still change.
"I wouldn't make assumptions anywhere yet because we still need to get through the capital budget completely, we still need to take a look at operations and discuss those very items that will affect us every day. We'll be reviewing that very carefully in the next couple of weeks."
Councillor Jonathan Torresan says, "it's all about where we land on what the operating costs are for the City and what the capital costs are to continue to replace our aging infrastructure. I would love to see the number come down but if it doesn't, we have to stand by our decisions and really make decisions that are best for residents long term in the planning."
In the draft, a comparison between Lloydminster and other mid-sized Alberta and Saskatchewan municipalities was provided. However, Torresan says this doesn't show the whole picture.
"Every city has a different model of how it funds its operations. The City of Lloydminster for many, many years funded its operations through land sales and through the use of the utility revenues, as well as property taxes. If you don't look at all of those things in combination of where all of the revenue's coming from, it doesn't necessarily give you the full picture when you're just looking at what the mill rate is."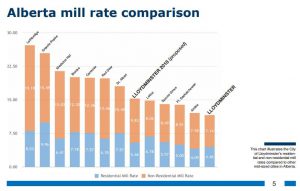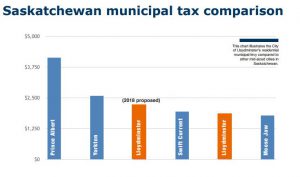 In the draft there are $47,118,762 proposed capital expenses including 10 carry over projects costing a total of $17,319,000 and 112 needed projects costing $29,799,762. Some of the larger capital expenses laid out in the draft include the Airport Runway Rehabilitation, costing $5,790,274; engineering for the Waste Water Treatment Plant costing $9,000,000; engineering for Drainage Channel Improvements on 52 St and 62 Ave costing $3,787,500; engineering for Water and Sewer Replacement costing $3,000,000; and engineering for Street Rehabilitation on 12-44 St and 40 Ave costing $3,000,000.
As for the Waste Water Treatment Plant, Mayor Gerald Aalbers says, "we're waiting on provincial and federal funding, that's the bottom line. Once we have an answer to where we are for that funding, that will then take us to the next steps. So it's really in the hands of the provincial and federal governments."
As well, council heard requests from third parties for funding, which included presentations from the SPCA, which is asking for a total of $60,000, $10,000 of that is proposed to go to licensing initiatives; the Lloydminster Facilities Corporation which controls the Lloydminster Golf and Curling Centre, they are asking for $121,792.96, this is nearly double what they received in 2017; Downtown Lloydminster Business Improvement District, which is asking for $145,000 which is equal to the tax levy; the Lloydminster Public Library which is asking for $883,164 for operations; the Lloydminster Regional Archives Association which is asking for money for the first time in the amount of $20,000; Mount Joy Ski Hill, which is asking for $14,500 to complete Project Snow; the Regional Business Accelerator which is asking for $110,000 for new food incubation and pop up retail initiatives; and the Vic Juba Theatre which is asking for $181,500, this is the first time their funding request has gone up since 2014.
No decisions have been made yet on the budget. The Council will continue discussions in the coming weeks. There will be two 'Coffee and Conversations' next week for residents to talk to council about the proposed budget.