21 kids from Lloydminster and surrounding areas had a dose of what life as a police officer looks like. On Friday, members the 2019 Lloydminster RCMP Youth Academy celebrated graduation in a ceremony similar to what new recruits receive after RCMP cadet training.
This past week, Lloydminster Comprehensive High School acted as an RCMP cadet training base for youth recruits. Students packed the school gym on cots during the 24/7 simulation of a future officer. Constable Grant Kirzinger says the students can reflect back on the growth and evolution gained during the one week academy.
"[The training shows] that they can take on any situation and any type of problem even if they don't have all the answers, to know that "I can work through this"," I can find the solution", and just have that belief in themselves."
Students decided to take part in police activities during their feburary school break. Exercises included training from an explosives disposal team and an inside look at a police helicopter.
Multiple officers donated their time with the academy training which was overseen by Kirzinger and Constable Mike Hagel. Child and Family Services, EMS, and firefighters took part in the exercises to display the teamwork that goes into the police lifestyle.
This is the third Youth Academy that has taken place in Lloydminster with the most recent being in 2016 and 2017. Kirzinger adds the training will take place every second year moving forward.
Although a smaller scaled graduation than what RCMP recruits would see, Constable Mike Hagel mentions how the kids entered as 21 individuals and came out as one troop.
"it's important for our youth to see the police in a positive light, and it's important to give these youth opportunities to apply to the police and let them know that "hey, this is a career option for you"."
The ceremony held on Friday at LCHS consisted of the students demonstrating their newly-learned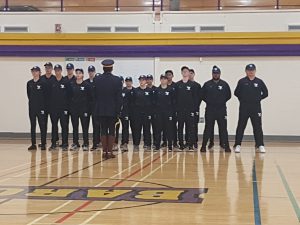 drill display to their families. Staff Sergeant Lee Brachmann, who was recently announced as the new commander of the RCMP Detachment, addressed the youth recruits along with Mayor Gerald Aalbers, the academy's valedictorian, Constable Kirzinger and Constable Hagel.
Graduates received a certificate from the academy, as well as an RCMP challenge coin.