Some Lloydminster land may be swapping owners in the near future as the city is looking into a land exchange between themselves and Husky.
The swap would see the city trade three pieces of land to Husky Midstream General Partnership and Husky Oil Operations Limited who would trade one big piece of property.
The exchange was discussed at the last Governance and Priorities Committee on November 18. The city would receive 160 acres near 44 Street and 75 Avenue in exchange for 23.6 acres south of the landfill, 2.64 acres on the east side of Highway 17 and 76 Street and 34.1 acres along 59 Avenue near the Husky terminal.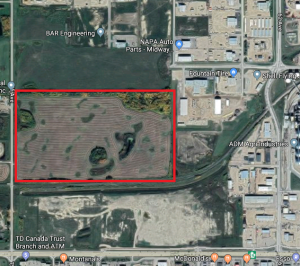 The discussion between the two has been ongoing for the past two years. Councillor Michael Diachuk says the land would provide Husky with future pipeline expansions and the deal looks good for both parties.
"This is an opportunity where the land we'd get in the swap butts against the property we currently have at the Operations Centre. There's a good fit for us and for Husky it's good because they have predictability with the land use and they can run the pipeline in and make sure they have access to the product."
Mayor Aalbers says both the City and Husky have done environmental assessments on the properties to ensure a fair deal with no surprises coming up in the future.
"We're ensuring that we're not inheriting something we're not aware of and making sure we have a clean bill of health for the land. Husky is doing their due diligence in a business transaction in ensuring they're not picking up any liability because they'll have to answer to their shareholders and board of directors." 
Aalbers notes the trade and the pipeline expansion as encouraging for future economic benefits to the community.
"The problem we have right now across Canada is that we have challenges as we can't put pipes in the ground. If we can help facilitate making sure that the long term investment climate is good I think is important from our perspective as a city."
The approval of the exchange agreement will be in front of council at a future city council meeting.