Rolling Green Fairways celebrated its 30th anniversary with the help of some golf balls, a helicopter and some local supporters of Lloydminster causes.
The golf course, with the help of Synergy Aviation, held a ball drop on Saturday, with residents buying into the pot. As it grew, so too did the jackpot. Half of the money raised went into that pot, while the other half went to supporting local community initiatives.
The event saw several people gather to watch the balls drop from the chopper, and eager to see if their ball would fall closest to the pin on Fairway #9. In the end, it was Oren Kosbar who took home the sold-out pot.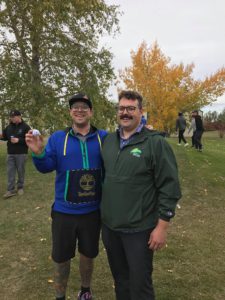 Manager of Rolling Green Fairways Heather Walker says they wanted to get involved to continue the Walker family's spirit of giving fostered since they opened the course.
"It feels good that we're going to give back to the community while celebrating our 30th anniversary because we do feel like we're a family-oriented crew here. We're hands-on and very much a party of this community, so it's great to see this event come to life."
In addition to Kosbar winning $5,000, another $5,000 was raised to be given out to two groups. The first portion will go towards Lloydminster Minor Hockey, so that young people can engage in the sport. The other portion will go to the 106.1 The Goat's Christmas Wish, which helps people and families needing support during the holiday season as they overcome adversities in their lives.
When asked if a future Rolling Green birthday could feature a Helicopter Ball Drop, Walker says they would be excited to repeat it, especially with all the support.
"It was awesome, I mean people had fun with it, young and old alike, and so yeah, why wouldn't we? The more people we can work with in the community, the better."
Walker also added they will continue to be looking to adapt, change, and grow with the community as they make their way to Rolling Green's 40th Anniversary in 2031.