A well conjured surprise by the Lloydminster Lion's Club has left one young person humbled with an elated recognition.
This week the service club hosted a function where they invited grade 12 Holy Rosary High schooler Olivia Brockhoff. The young viral sensation may have anticipated she would share comments on her video which has been reported across North America for its feel good element of simply saying, 'I think you are beautiful.' One video reporting on here initiative has over 170,000 views.
Instead the invite turned out to be an award presentation to Brockhoff by the local Lions for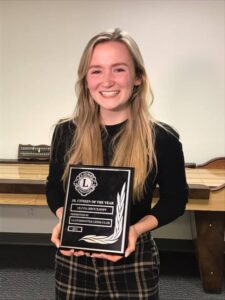 their Junior Citizen of the Year.
Brockhoff says it's amazing how far a video on complimenting people can go.
"It went everywhere. I had an interview with the Ellen DeGeneres producers and the Kelly Clarkson Show and got to see all that behind the scenes stuff. I got to learn more about how much complimenting people actually affects. Literally everybody needs to hear those pick-me-ups all the time."
Brockhoff is heading to the University of Saskatchewan in the fall for a bachelor of science.
The Lions shared that the sentiment in the video of telling people they are beautiful has saved at least one life. Lions club member Kathy Smithson looks back at another of Brockhoff's projects which involved donating pj's to the Edmonton Stollery Hospital.
"Well seven years later she has collected and donated over 10,000 pairs of pj's. In conversation with a couple of the staff from her school, the remarks were that it's not unusual for a student to take on a project and run with it for a year, maybe two. But seven and counting. That's pretty frickin' amazing."
The reception resounded with applause as the Lloydminster Lions Club agreed they will look forward to even more humanitarian and other endeavours from their awardee.